Fashion's digitisation: What it means for brands
No one in the fashion industry (or any industry) could have predicted the Covid-19 crisis. However, some fashion companies found they were better equipped than others to deal with the fallout. Primarily because of their digital proficiency.
Going digital has been the key – not just to success – but to survival in 2021. This year's Fashion Week was digitised once again and industry experts are now desperately trying to envisage how the future of fashion shows might look.
Fashion brands need to work out how to balance their physical and digital brand presence. Some have managed to get this balance right. But for many, digital content distribution is proving easier said than done. Even with the right digital skills and fresh, engaging content, brands are still faced with the challenge of bringing collections to life without access to a physical store or showroom.


The business of fashion – then and now
Taking place twice a year, Fashion Week would gather together the most influential movers and shakers of the fashion world (namely, buyers and journalists). Their purpose? To spread the word about the latest fashion collections and trends. This information was then readily available for the general public (aka end consumers).
However, since the pandemic, things have been a little different. Brands have been forced to digitise and rethink how they can continue nurturing these relationships. For example, in a digital world, how can you maintain exclusivity with global industry insiders while making yourself accessible to a wider audience of experts? And how do you shout about a new collection via social media and the press without diluting the impact and message?


Redefining the user journey
The race is on for brands to find more streamlined ways to bring collections to life in a digital format. But as a Forbes article asks: where should they start?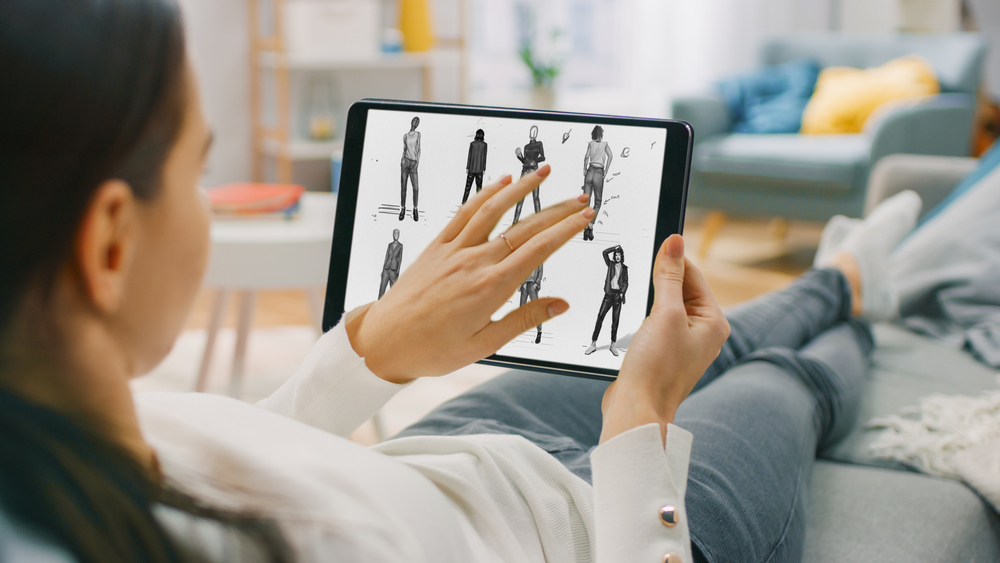 In terms of the user journey, it all begins with brand assets. These assets are made up of catwalk looks, campaign shots and product images, all taking the form of physical samples or digital content.
To get brand assets out into the digital sphere and improve the overall digital experience, a good place to start is with a centralised, cloud-based system. This allows you to store all your digital assets in one place, giving simple and fast access to both staff and people outside of your company.
Organisation is key. Organising your assets in an efficient way – categorising, tagging and moving – and granting access to all key stakeholders helps you stay in control of what the end user can and cannot see.
You also want the end user to have a full 360° experience, making use of digital to showcase collections and attract audiences in increasingly creative ways. Go wherever your imagination takes you – VR, mini-documentaries, interactivity or gaming.


Communication, connection, content
Of course, there are limits to how much you can do without a physical showroom or store. An immersive online experience is your best bet for attracting buyers and building relationships with the media. A digital showroom opens opportunities for communication between brand and stakeholder and keeps everything in one place.
But a digital showroom or event won't give you the results if it's working isolation. By connecting it to other tools, you're able to gather insights into who is viewing, downloading and requesting what information and keep the links between digital and physical wide open. 
Your digital showroom works as an extension of the brand experience, picking up where a video leaves off and helping to build and nurture relationships. So personalise it, customise it, and tailor the experience to the user.
Whatever shape your digital event takes, you need to ensure that content is the star. Here are some ways to guide guests on their digital journey:
Before the event, share a teaser and a countdown that will grab your guests' attention.
Make sure the invite is innovative, eye-catching, and worthy of sharing.
Once the event is complete, link the collections to the digital showroom to encourage maximum post-event engagement.
Ensure all your digital tools are linked so that guests can request samples directly.


The more you're able to create an immersive experience for your audience, the more you can inspire industry experts, engage customers and grow your brand.
If you're looking for ways to create a more immersive omnichannel experience for your audience, the team at Delta is on hand to help. Get in touch today to find out more: hello@thedeltagroup.com.