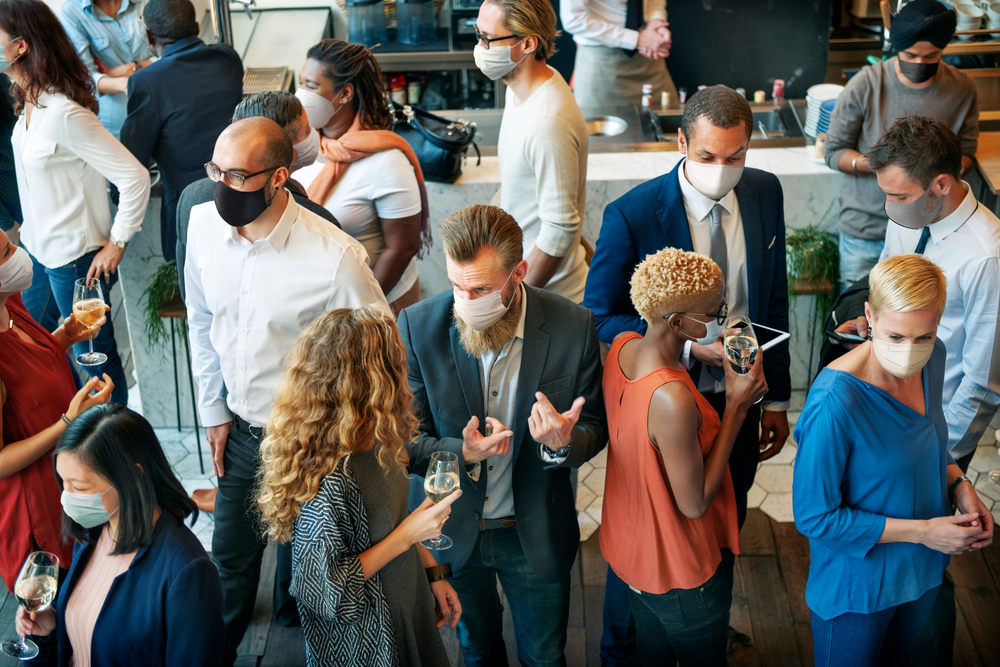 5 ways to make attendees feel safe at live events
Anyone organising an event wants attendees to feel comfortable. This has never been more true as we ease out of lockdown and prepare for a post-pandemic era.
All live events must follow government Covid-19 regulations, which inevitably means there is a huge amount to think about during the planning stages.
A key consideration is that attendees may be feeling a certain amount of anxiety about being part of a large group. Even with the success of the UK's vaccination programme and the low level of cases right now, the idea of gathering in large groups may still take some getting used to.
Here are five tips on how to help everyone feel comfortable and safe at in-person events.


1. Be clear about safety measures, but don't let them take over
It is important that you communicate the steps you're taking to ensure an event is Covid-safe; your staff and attendees will appreciate in-depth information. However, don't make safety measures the main focus when someone visits the event's webpage, social media or other marketing material.
We're all well aware we're emerging from a global pandemic. Guests just need reassurance that the event will be adhering to guidelines and keeping everyone safe. You need to find the right balance – being clear that Covid-safety is a top priority and pointing attendees in the fight direction for more information. But remember, guests will be just as keen to find out about the event itself as they are about safety measures.


2. Stay updated on changes and show you're being compliant
The rules, restrictions and guidance around Covid are changing all the time, so it's important to let attendees know you're up-to-date and on top of the latest requirements. Following rules about masks, sanitation stations and venue capacity will put attendees' minds at rest and help them feel more comfortable.
The UK has a roadmap in place, but that is not set in stone. Local and regional restrictions have not been ruled out and event planners need to be prepared for every eventuality. Make sure the whole team is kept updated on the latest regulations and are able to answer attendees' questions.


3. Be upfront about any screening procedures before attendees register for the event


Different events will have different screening procedures in place. Make sure you let would-be attendees know what is required in terms of test and trace, lateral flow tests, temperature checks, or medical questionnaires. More than likely attendees will be happy with these procedures – as long as they are made aware of them in advance.
Screening procedures are likely to become part of our routines over the coming months. We're learning to accept these behaviours as commonplace and attendees will recognise that these processes are in place to keep them and those around them safe.


4. Have on-site safety reminders
Don't just limit your Covid-safety messaging to pre-event marketing. Make sure you have plenty of on-site reminders about safety measures as well. This could include additional signage about one-way systems, reminders to wear a face covering, and a nudge about social distancing.
Staying consistent with your communication and being very clear about your intentions will help attendees feel more relaxed and able to enjoy the event. Saying that, don't go overboard on your on-site messaging. You don't want guests to feel like they've just entered a maximum security prison. Just let them know what's been done to keep them safe and where they can find more information if they want it.


5. Keep communicating with attendees post-event
Just because an event is over, doesn't mean the safety measures should end as well. Staying in touch with attendees will not only help if someone tests positive after the event, but also allows you to gather feedback about the safety protocols in place. If the results of these post-event surveys are good, they can be used to promote future events and show you have a positive Covid-safety track record. The results can also be used to inform safety decisions at your next event.


Delta: Powerful visual communications
Winning back the confidence of guests attending in-person events is going to take some time and a lot of effort. With limited social encounters for so many months, people are understandably going to be wary about large gatherings.
Regardless of what safety measures you put in place, clear and consistent communication before, during and after the event will be key to helping attendees feel at ease.
At Delta, our dedicated event team is on-hand to support your requirements, and help to ensure your event is a great success. To find out what we can offer, get in touch today at hello@thedeltagroup.com